Performer Branding and Websites
Move

Your Career,
Brand

Your Talent.
A Complete Branding and Website Package for Dancers, Actors, Performers and Talent. No Worries, Our Hollywood Team Does Everything.
What's Included
One Simple Plan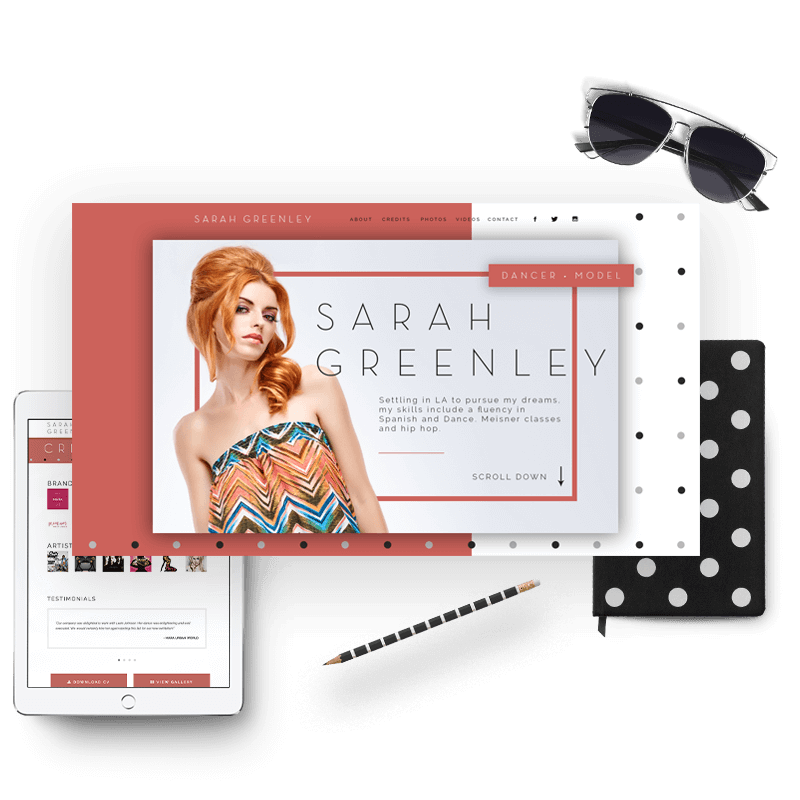 Professionally Stunning website
Our Holywood Team designs a customized website for you that looks amazing on every device, especially mobile phones! Our websites are SEO friendly and specially designed for Actors, Dancers, and other Talents.
Talent Branding
Our Hollywood experts design & edit your content in a style and brand that is personalized to you. All plans come with a logo that matches your website.
Unlimited updates by our team
Our Dedicated Hollywood Team fully manages updating your website's content for free, so you never have to. We updated your photos, videos and text.
Domain Name, Hosting & Security
Free custom domain for the life of your site. Powered by blazing fast hosting and security so your site loads faster all around the world. All custom coded to guarantee your site will never be hacked or contain viruses.
Advanced Features continually added for free
Sites are upgraded with new advanced features periodically to ensure it stays modern and cutting edge. You'll never need another site again.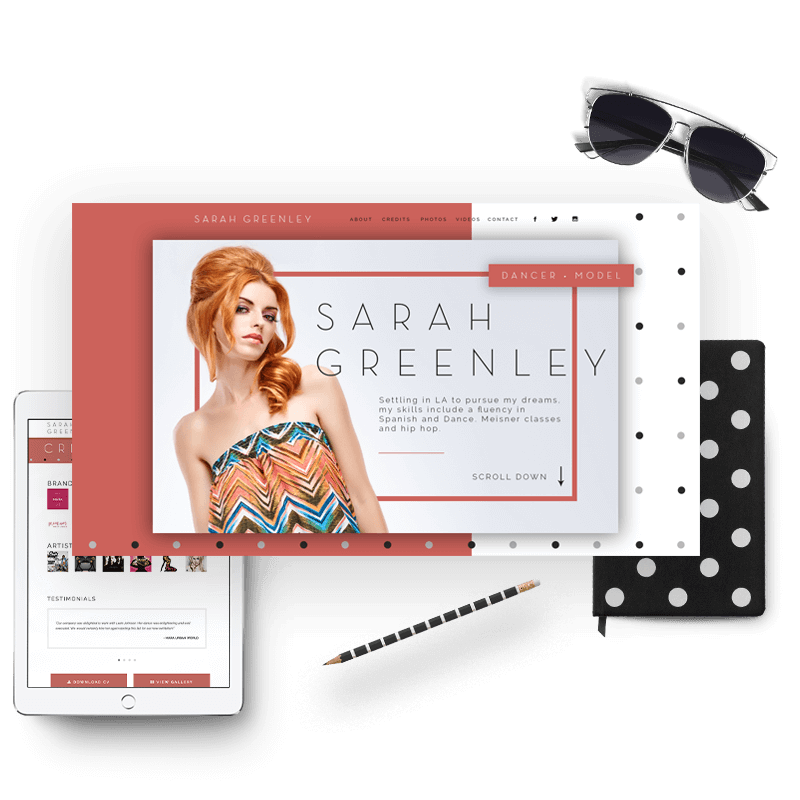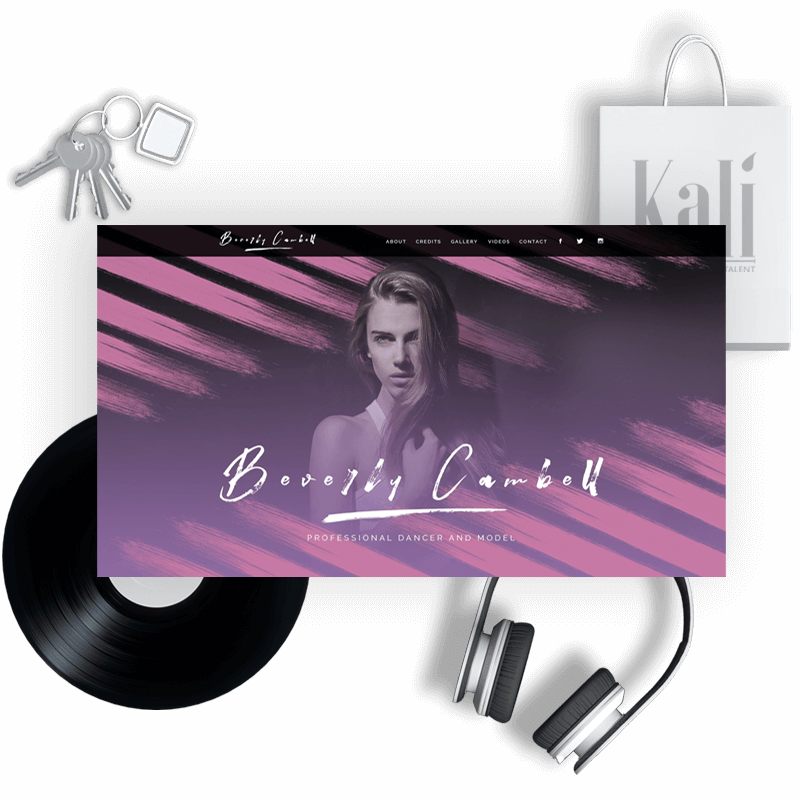 Why Choose Us
High Quality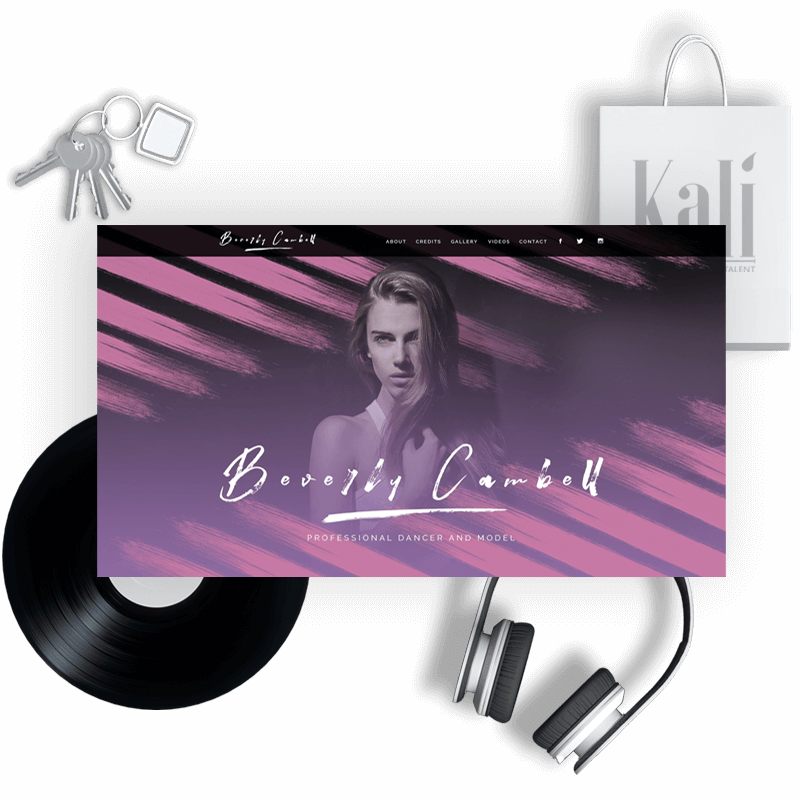 Our team updates your site for free
We are the only company that includes an Unlimited Updates service to your site by a dedicated Hollywood Team.
We continually add new features and technology
It's like continually having a new site for free. For the life of your plan, our team will upgrade your site with new features and technology.
We Care More
Kali Websites only specializes in Talent websites. Our Hollywood experts have 40 years experience in Entertainment; we know exactly what you need! Self-builders don't care how your site looks. We care by making you and your site look stunning.
We ensure your website's security 100%
Your site's security is protected by us. We custom code everything to guarantee your site will never be hacked or contain viruses. If it ever is, we will fix your site for free.
Our clients help change the world
Your website plan helps fund charities and communities that support the arts. Throughout the year, we're able to give back and donate to causes that make the world a better place for artists, entertainers and the youth.
Pricing to support performers and artists.
Pricing
Standard Plan
Go Kali Plan Includes
Professionally Stunning Website.
Talent Branding including matching Logo.
Unlimited Updates to website content performed by our Hollywood Team.
Free Domain Name for entire life of your plan.
Fast Site-loading Global Hosting with managed File Back Ups.
Guaranteed Site Security managed by our Team.
Free SSL Certificate for entire life of your plan.
Advanced Features added continually for free.
Scholarship Plan
Now Accepting Applications
Includes everything in the Go Kali Plan
FREQUENTLY ASKED QUESTIONS
Let Us Simplify things for you
How do I update my website and does it cost extra?
Our dedicated Hollywood Team updates your website for you. All you have to do is send us your new content (photos, video links, text, Resume/CV, etc.) and our team will update your website for you. All updates are completed within 24 hours or less. Unlimited Updates are included in your plan so there are no extra costs.
What does the plan's monthly fee include? What exactly am I paying for?
Your plan includes a complete package of products and services necessary to having and maintaining a professional website. We handle everything you need so you can focus on your passion. Plan includes: a professional website, custom domain name, fast hosting, SSL certificate, continuous new features added to your site, and Unlimited Updates performed by our dedicated team. This includes editing your photos so they fit correctly on your site (No more cut off heads or stretched faces!). We also optimize your content so your site will load faster and rank better on search engines. Your plan provides you with a top Hollywood Team dedicated to managing your website throughout your career.
If you're in Hollywood, does that mean I can only get a Kali Website if I live there too?
We work with clients around the world. Even though we are located in Hollywood, CA, our client roster reaches throughout NYC, Austin, Atlanta, London, Edinburgh, Manchester, Mexico City, Milan, Rome, Sao Paulo, Frankfurt, Hamburg, Paris, Seoul, Hong Kong, and Tokyo.
How long are your contracts?
We don't have any contracts. We are here to grow with you and your career, but if things change, you can cancel your plan anytime.
How do I begin? What are the next steps?
If you are interested in becoming a client of Kali Websites, please contact us to request a free consultation. It's easy and hassle free from there. Our team is here to support and empower you.
Contact Us
Get Treated Like A Star
FOR ALL GENERAL INQUIRIES
Email Us: contact@gokali.com
Call Us: 818.370.0440
Request More information or a free consultation